| | |
| --- | --- |
| Posted on 3 July, 2016 at 23:05 | |
In business we write for many reasons. One key reason we write is to influence. It may be that we want to sell a product or concept. It may be that we want to change a behaviour. It could be that we want to motivate.
Finding the right words, using the right tone and laying out your message, are all key to how well your aim to influence is achieved.
Khowing how to do this isn't inherent and so if your intent is to influence, it's a good idea to get some training or pay someone with these skills to do the writing for you. Winging-it can mean a train wreck.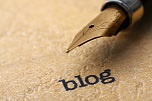 Categories: None